WATCH BATTERY REPLACEMENT, RESEAL AND PRESSURE TESTS
WE RECOMMEND A BATTERY AND RESEAL IN BETWEEN SERVICE INTERVALS TO KEEP YOUR WATCH IN PEAK CONDITION
As well as watch servicing and repairs we carry out a lot of watch battery replacement and reseals. We get asked a lot of questions as to what is a battery and reseal, as many customers may have just had a watch battery replacement only in the past without a reseal. Watch battery and reseals are normally carried out once the watch battery needs replacing and We recommend a watch battery and reseal in between service intervals to keep your watch in peak condition. Every watch booked in for a battery and reseal will have the following procedure carried out as described below. You will see it's quite different from just a standard battery replacement.
1. ASSESSEMENT
The case back is removed and the watch movement is tested for consumption, coil resistance and timing keeping.
2. WATCH BATTERY REPLACEMENT
A new Swiss Renata watch battery is fitted to the watch movement.
3. MOVEMENT REMOVAL
The watch movement is carefully removed from the case and placed in a dust free container.
4. CASE AND BRACELET DISASSEMBLY
The case and bracelet are separated, seals and spring bars are discarded.
5. NEW SEALS ARE ORDERED
New replacement seals and gaskets are ordered from the manufacturer. We also keep a large stock too.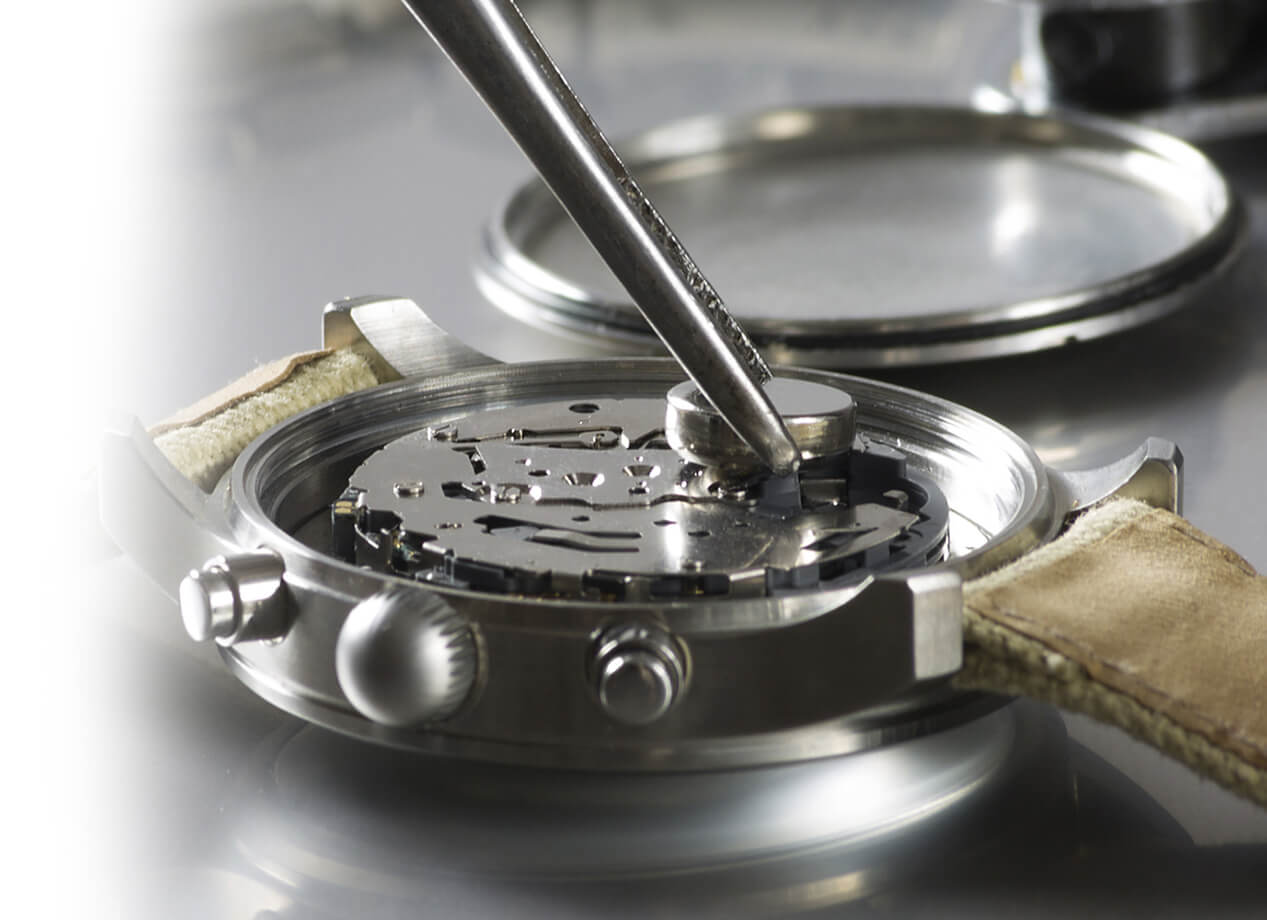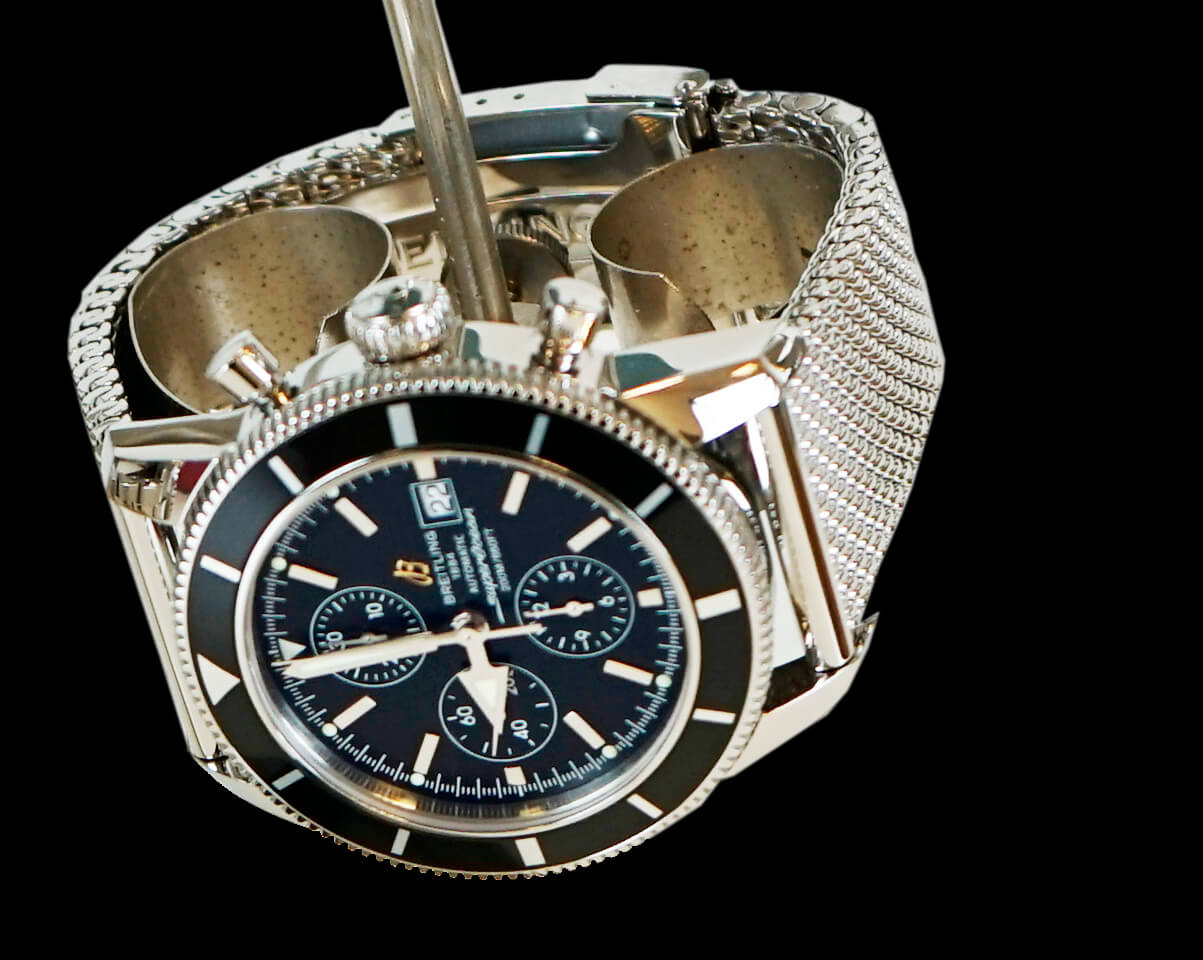 6. ULTRASONIC CLEANING
The case, case back and bracelet are placed into a hot ultrasonic tank for 6-8 hours to make sure they are thoroughly cleaned.
7. STEAM CLEANING
After ultrasonic cleaning of the case, the case back and bracelet are washed in clean water and then steam cleaned with an 8 bar steam hose to make sure they are perfectly cleaned.
8. DRYING
The case, case back and bracelet are placed in on a special dryer. Special attention is taken on the case to make sure no moisture is trapped in the case tube and case treads.
9. ASSEMBLY
The glass and new glass gasket are refitted and the movement is carefully placed back into the watch case. New Tube and crown seals/gaskets are fitted. The movement screws and case clamps are checked and then the back seal is fitted and the case back is secured.
10. PRESSURE TEST
The watch is then placed in one of our pressure testers. Depending on the make and model we test it accordingly.  We test the watch case to manufacturers' specifications.
11. BRACELET ASSEMBLY
The bracelet or strap is refitted with new spring bars and the watch clasp is checked for tightness and adjusted.
12. FINAL CHECKS
The watch is set to time and is monitored. All aspects of the case and bracelet are checked for cleanliness. This procedure follows many manufactures guide lines and is the correct and the only procedure for your watch to be maintained in its optimum condition. This process usually takes 5-7 working days as we order new gaskets for your watch.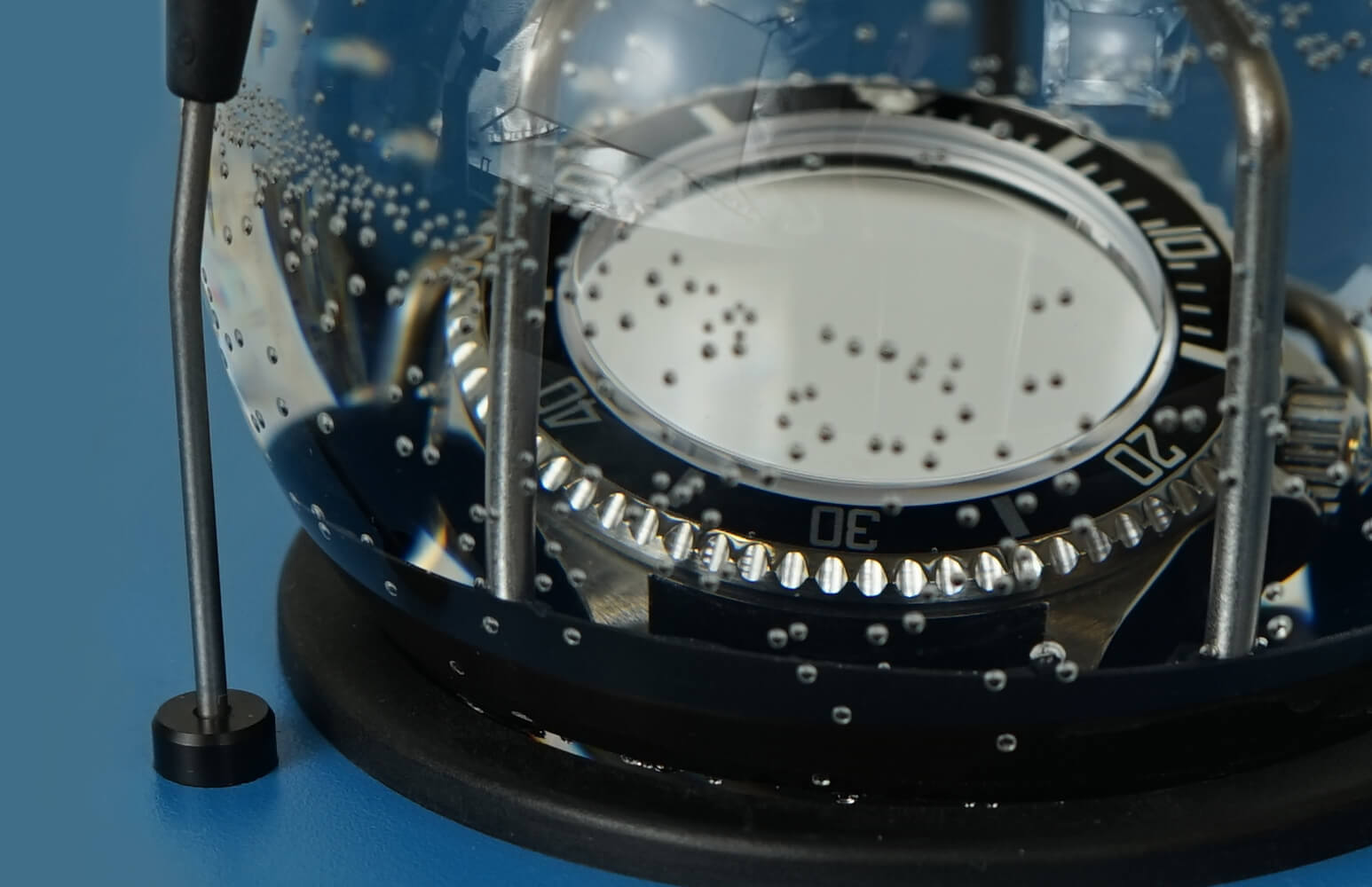 YOU ARE GUARANTEED A PROFESSIONAL AND PROMPT SERVICE AT A COMPETITIVE PRICE
Our Rolex accredited and Authorised Omega Level 3 watch repair workshop features some of the latest tools and equipment from manufacturers in Switzerland and around the rest of the world, including Rolex and Omega.  We also have traditional tools which are no longer manufactured.  We are in a purpose built, bespoke workshop with natural daylight, a climate controlled environment and we have specialist built fume cupboards for all our cleaning machines.
We are not situated in a bedroom of a house or in a converted garage. We don't claim to be "doctors" in watchmaking working from a "kiosk", "lab" or from a "hospital". We are not a service agent company that handles watches and posts them off to separate companies. We are a professional company with the correct tooling and qualifications. Our workshop is fully insured by TH March. We believe that all this makes us stand out from other competitors in watchmaking, servicing and repair.
Prestige Time Services' fully equipped modern workshop is located in Lymm, Cheshire. Our Swiss trained, British Horological Institute trained and Rolex accredited head Watchmaker Paul Brady (Grad BHI) has an extensive CV spanning over 18 years in this specialist trade and manages our team of watchmakers and technicians.
ABOUT PAUL BRADY
Paul attended the WOSTEP 3000 hour Swiss training and education program in Manchester in 1997, and at the same time gained his BHI qualifications in watch making.  Paul left the WOSTEP course not only passing, but gaining the highest mark in the country at that time.  Paul then applied his skills and knowledge at Rolex UK in Bexley, Kent.  He gained valuable and extensive expertise on Rolex watches.  Paul then left Rolex and returned to the North West.  Since then he has worked at many independent watch service companies and jewellers as head Watchmaker and has had a small team of Watchmakers and Technicians working for him.
We offer a wide range of services, including: repairs, services, restoration, batteries/reseals, watch buying service, pre-owned watches for sale, new crowns and glasses, dial restoration, case refurbishments, watch strap replacements and all of our work is fully guaranteed.  At Prestige Time Services all of our work is carried out by professionals who have gained all the relevant qualifications to work on watches. For details of our comprehensive watch servicing procedure click here.
The way watches are being repaired and serviced nowadays has changed from a watchmaker being based in a jewellery store where the watch was serviced or repaired on site.  Jewellery stores no longer have watchmakers on their premises so watches are now booked in and then posted to either a particular manufacturer or to an independent watchmaker usually without the customer's knowledge.
By having your watch serviced or repaired with us you can personally send your watch and insure it with the Royal Mail's "Special Delivery" service or any UK courier, so you know your watch is safe and secure.  You can also drop off your watch with us at our secure drop off point in Lymm, Cheshire which is near the M60, M6 and M56 motorway network south of Greater Manchester.  We always return your watch via Royal Mail's "Special Delivery" with the adequate insurance level chosen, so you can have peace of mind that your watch is looked after.
YOU ARE GUARANTEED A PROFESSIONAL AND PROMPT SERVICE AT A COMPETITIVE PRICE
For information on our services and how we can service and repair your watch please view Our Services page.